A special operation against Vahhabis was held in Zagatala region, said a source from the regional police office, APA reports.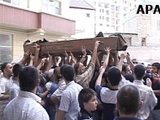 20.08.08

10:12
According to the source, search was carried in the house of Zagatala resident, Vahhabi Javanshir Taghiyev (born in 1973). It was revealed that 25 vahhabis gathered in his house.
All of them were carried to the police and interrogated due to the explosion in the Abu Bekir mosque. After getting testimonies and fingerprints, they were released.
According to the source from the police, among the detained there were deputy Imam of the Abu Bekir mosque Adil Rajabov and four Russian citizens, temporarily registered in Baku, including Vuqar Aliyev, Rovshan Mamedov, Sahib Shirinov and Ali Qadirov.

-------------
19.08.08

14:56

Wahhabists in Azerbaijan's Zagatala and Balaken regions are being interrogated in connection with the explosion in Abu Bekir mosque in Baku, the interrogated persons told APA's Shaki-Zagatala bureau.
The interrogated persons said they had been asked questions about the explosion and released after interrogation. The Balaken Region Police Office confirmed the fact. The police office told APA's local bureau that the persons had been interrogated in connection with the explosion.
"The persons were interrogated and released", he said.
/APA/