Azerbaijan is ready to appoint its ambassador to Estonia and cancel visa regime with this country.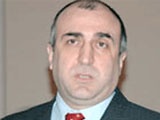 The due announcement was made by Azerbaijan's Foreign Minister Elmar Mamedyarov at a joint press conference Friday following a meeting with Estonian Foreign Minister in Tallinn, Novosti-Azerbaijan reports with reference to the chairman of the Estonia-Azerbaijan commercial chamber Yana Krimpe.
Mamedyarov noted that Azerbaijan will open its embassy in Estonia late this year.
Moreover, the Foreign Minister confirmed that work is carried out to cancel visa regime between the two countries and the first step will be signing a contract on readmission.
Puet voiced hope that the contract on double tax evasion with Azerbaijan will come in force next year.
Estonian Foreign Minister also noted that Azerbaijan is an important component for the European Union in formation of the energy security system. Estonia is interested in development of cooperation with Azerbaijan within NATO's peacekeeping missions.