Khojat-ul-Islam Abdulaziz Azimi Gadim, one of the activists of the movement for restoration of the rights of Iranian Azerbaijanis, has been sentenced to one year of imprisonment.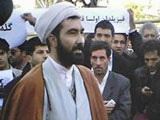 According to movement activists, the decision was passed by the court of Gum city, Iran.
The decision states that A.Gadim failed to fulfill the requirements of the decision, passed on him two years ago, by taking part in the meetings near Sattarkhan and Bagirkhan's graves, as well as a march to the Babek fortress in a garment of a clergymen, which contradicts the rules set in Iran for clergy.
For this reason, A.Gadim was prohibited to put on religious garments along with being sentenced to one year imprisonment. Yet, now the court, referring to Gadim's failure to fulfill the second paragraph of the decision, sentenced him to imprisonment again.
Moreover, Gadim will be sent to exile to one of Azerbaijani provinces of Iran.
In 2006 A.Gadim was imprisoned for 6 months for his socio-political activity.
/APA/