"Armenia has lost its international influence, while Azerbaijan has only strengthened its positions".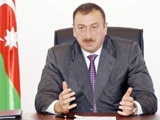 "Now we know which financial reserves we will have from the sale of oil, natural gas, economic and industrial development. We are opening all roads and becoming a transit country.
As to the energy, we are transforming into an irreplaceable country for Europe and the world", Ilham Aliyev said at an expanded session of the Cabinet of Ministers on the results of 2007 and the plans for 2008.
"What can Armenia give to the world community? Nothing from the political, economic, transport or cultural points of view", he noted. "This is merely a mono state which drove away all other nationalities from its territory and lives in conditions of close, militarized and anti-democratic regime".
"In Nagorno Garabagh a criminal group has occupied the region ruled by military and criminal and illegal regime, where no international monitoring is held", Izvestiya newspaper quotes Ilham Aliyev as saying, with reference to ITAR-TASS.
/Day.Az/
Related news:


Ilham Aliyev holds session of Cabinet of Ministers