Turkey's Armed Forces General Staff's chief Yashar Buyukanit held his first press conference since taking up this position.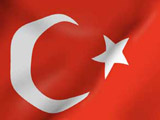 The Army general touched the issue on PKK terrorist organization at the beginning of his report. He stated that they have got intelligence information on the activation of terrorist organization from May.
"We are carrying out large operations in the region and tactful points. We have lost ten soldiers recently. 29 terrorists have been killed. Our aim is to destroy the structure and plain of terror," he said.
Buyukanit said he supports carrying our military operation in the north of Iraq to target PKK bases there.
"You are welcomed with Kurdish flag, Kurdish national march at the Suleymaniyya airport. Even National Bank was established. Independent system comes out in the region. One of the leaders says something on Turkish Armed Forces. If you ask "How will you answer them as soldier, or should military operation be held?", I will answer "yes, it should be held". Turkish Armed Forces have enough force to do it. But there should also be political will", he added.
Buyukanit means decision of the government when saying "political will", APA reports.