Azadliq block appealed to Baku major's office on the rally set on January 26.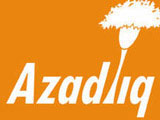 The letter indicates the venues for the rally - Fuzuli, Narimanov, Ganjlik, and Jafar Jabbarli squares, outside of Economic Development Ministry and State Committee on Management of State Property, the member of Rally Committee, deputy chief of APFP Hasan Kerimov told the APA.
The block wanted only one of the squares to be sanctioned for the rally to be held on January 26 from 15.00 to 17.00. Otherwise, Kerimov noted that they will hold the rally in any of those squares.
It should be noted that, the block decided to hold rally because of increased charges for electricity supplies.