Azerbaijan's Defense Minister, General Colonel Safar Abiyev received U.S. co-chair of the OSCE Minsk Group Matthew Bryza on Monday.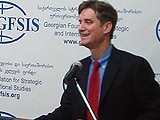 Minister Abiyev said the OSCE Minsk Group's activity on the settlement of the Armenia-Azerbaijan, Nagorno Karabakh conflict has not yet given efficient results.
The Minister called the Armenia-Azerbaijan conflict a main obstacle to the development of relations between Azerbaijan and U.S. He reminded that Armenia has occupied Azerbaijani lands.
"Official Yerevan should realize that this policy leads Armenia to the abyss. Armenia stays aside from all economical projects in the region while Azerbaijan develops its economy and strengthens the military power. The Nagorno Karabakh conflict should be solved in the frames of Azerbaijan's territorial integrity and international law norms. If negotiations give no result, Azerbaijan will liberate its territories by other means," Abiyev said.
Mentioning Azerbaijan's predominance over Armenia in all spheres Matthew Bryza called for Azerbaijan to be patient. He said his mission as OSCE Minsk Group co-chair covers the settlement of other problems in the region and promotion of relations between Azerbaijan and US.
The co-chair highly appreciated Azerbaijan's support to the US in the fight against terrorism and said international community supports peaceful solutions of the conflict, the Ministry told the APA.