Iran's top leader, Ayatollah Ali Khamenei, warned Sunday that oil shipments from the Gulf region would be disrupted if the United States attacked his nation.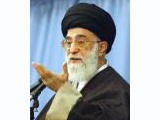 According to the Associated Press news agency, Khamenei also insisted in a speech broadcast live on state-run radio that Tehran will not give up its right to produce nuclear fuel. He added that Iran is not seeking a nuclear bomb as the West suspects.
"If you make any mistake (invade Iran), definitely shipment of energy from this region will be seriously jeopardized. You have to know this," Khamenei said.
He added that if there was a disruption, the United States and its allies could not secure all the oil shipments that transit close to Iran's coast. Much of the world's oil supply passes through the strategic Strait of Hormuz, which links the Gulf to the Indian Ocean and separates Iran from the Arabian Peninsula.
"You will never be able to protect energy supply in this region. You will not be able to do it," he said, addressing the West.
Khamenei, however, did not specify how oil supplies would be disrupted and insisted Iran would not start any war.
"We won't be the initiator of war," he said.
Iran is the world's fourth-largest oil exporter and second-biggest power within the Organization of Petroleum Exporting Countries. Iranian officials repeatedly have ruled out using oil as a weapon in the nuclear standoff with the West.
Secretary of State Condoleezza Rice dismissed that talk.
"I think that we shouldn't place too much emphasis on a threat of this kind," Rice told "Fox News Sunday."
She cited Iran's heavy dependence on oil revenue. "So obviously it would be a very serious problem for Iran if oil were to be disrupted on the market," she said.
Rice also made clear that if the first major public negotiations in more than 25 years involving Washington and Tehran go ahead, "This is not an offer of a grand bargain somehow with Iran. This is not an offer to let bygones be bygones and to forget the record of terrorism or the human rights."
/www.forbes.com/