An Iranian unmanned aerial vehicle purportedly buzzed a U.S. carrier in the Persian Gulf for 25 minutes before safely returning to its base.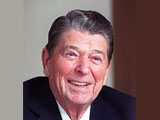 Azerbaijan's Trend news agency reported on May 31 that according to an unidentified senior Iranian official, "our pilotless reconnaissance plane flew over the USS Ronald Reagan in the Persian Gulf unnoticed to the Americans for 25 minutes," according to Iran's Fars news agency.
According to the United Press International, while the official declined to give an exact date and time for the flight, he added that U.S. military radars tracked the UAV after 25 minutes, but although four fighters and two helicopters were sent to intercept it the UAV crossed the border back into Iran and landed before interception.
The official boasted, "This points to holes in the U.S. military reconnaissance systems deployed in the Persian Gulf."
The United States and its coalition partners currently have about 45 vessels in the Gulf and Red Sea region, including the USS Ronald Reagan, the Navy's newest aircraft carrier, and five escorts.