The opposition Party of National Independence of Azerbaijan (PNIA) chairman Etibar Mammadov on Wednesday played down the reports terming the detained former economic development and health ministers as "political prisoners" and accused them of corrupt practices while in office.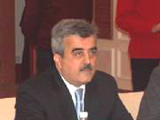 Ex-ministers Farhad Aliyev and Ali Insanov are charged with complicity in an attempt to stage a coup d'etat in the country and abuse of power, AssA-Irada reports.
Mammadov said that according to European principles, only persons detained as a result of their political activity could be included in this category.
"The motives for the ex-ministers' actions were based on their political ambitions. From this viewpoint, they could be included in the list of political prisoners. But even if they are included by the Council of Europe, I will not defend them," Mammadov told reporters. He also regarded Farhad Aliyev as a "symbol of corruption".
/AzerNEWS.Net/