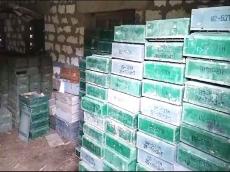 Ammunition storage was found in the territory of the Gozlukorpu settlement of the Kalbajar region on 21 September. The outbuildings of the farm located in the territory of the settlement were used as ammunition storage for a long time, Azernews reports, citing the Azerbaijani Defense Ministry.
Rockets, artillery shells, mines, and ammunition of various calibers were stored here.
It was also defined that the mentioned ammunition was delivered to the farm by an ambulance.