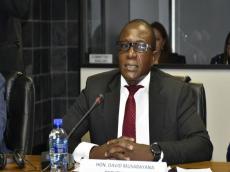 By Azernews 
Azerbaijan's initiatives initiated during its chairmanship of the Non-Aligned Movement (NAM) are of special importance, Zimbabwean Deputy Foreign Minister David Musabayana said in Baku while addressing a plenary session of the Summit-level Meeting of the Non-Aligned Movement Contact Group in response to COVID-19.
"We highly appreciate Azerbaijan's initiatives on combating consequences of the pandemic as the chairman of the NAM," he said, underscoring the importance of the Baku summit and voicing support for the goals of the organization.
The deputy minister said the complete post-pandemic recovery of the world is not expected soon and the NAM should further adhere to its values.