The opposition members representing their parties in the Central Election Commission get ready to resign collectively. They are expected to take this step at any time.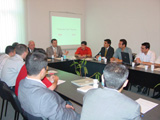 The CEC secretary Vidadi Mahmudlu told APA that the the representatives might take certain steps due the non-objective investigation of the issues by the CEC administration. "It is investigating the complaints in favor of the persons supporting the authorities," said Mahmudlu.
"The ten members of the CEC representing the authorities sometimes hold sittings separately and we have to hold sittings with 5 members. We warned the CEC administration on our possible resignation from the Commission," stated the secretary. Other CEC secretary Natig Mammadov told APA that the administration of the commission has not been informed about the resignation.
"It is up to them to resign with finding pretexts. But, these pretexts are groundless. Simply, when the issue on abolishing results of the Elections in some constituency is being discussed they look for a calculator to calculate whether it will benefit the opposition. They advocate when it is beneficial and stand against when it is not. I mean legality is not the case for them," noted Mammadov.
APA