"Azadlig" bloc member parties held march-rally starting in front of the 20 January metro station ending in square in front of Gabala cinema.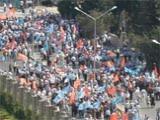 The rally participants stated that they are trying to achieve democratic parliamentary elections in Azerbaijan this year but the authority is not taking a real step in the direction of holding free and fair elections.
Musavat Party leader Isa Gambar, secretary-general of ADP Serdar Jalaloglu, chairman of reformists wing of APFP Ali Karimli made a speech in the rally emphasizing that, the opposition will win in the parliamentary elections to be held in Azerbaijan in autumn this year.
Editor-in-chief of the "Monitor" journal, the late journalist Elmar Huseinov's spouse Rushaniyee Huseinova made a speech in the rally. R.Huseinova stated that the murderers of E.Huseinov have not been disclosed yet.
Slogans like putting an end to the political persecutions, revealing the murderers of Elmar Husseinov, making democratic changes to the Election Code, providing equal conditions for all the candidates to participate in the elections were uttered in the rally.
According to the press release entered to APA from Head Police Office of Baku city (HPOB),"The rally lasted from 17.00 till 19.00 brought together around 5000 members of radical opposition parties and organizations".
It was also informed from HPOB, the rally suffered no incident.