Bulgarian Council of Ministers approved the intergovernmental treaty signed with Azerbaijan about simplifying the visa regime.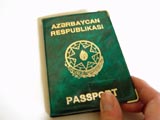 Information about it was given to APA from diplomatic sources. The offer for simplifying the visa regime was made by Azerbaijan official Baku based this offer with the establishment of conditions for developing the cooperation between two countries.
According to treaty project, the citizens of both countries with diplomatic and official passports can enter, get out and use for transit purposes the territories of Azerbaijan and Bulgaria during 90 days without getting visas.
The citizens of both countries will be able to benefit from these rights 90 days in every 6 months without any visa. This article does not permit the persons entering to the territory of the country without visas to be engaged in income activities.
People accredited in diplomatic missions and consulates, as well as the associates of international organizations have the rights to enter the territories of Azerbaijan and Bulgaria during the period of accreditation. This right also concerns the family members of those persons.
Articles prohibiting the entrance of "undesirable persons" into the territory of the country take place in intergovernmental treaty.