Belgium pays great significance to relations with states of the Southern Caucasus, including Azerbaijan.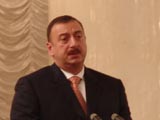 The agency Trend reports, the chairman of House of Representatives of Belgium Herman de Kroo stated 7 April during his meeting with the Azerbaijan president Ilham Aliyev. He said, relations of Azerbaijan with European Union are developing successfully and cooperation in energy and other spheres is continuously expanding. He expressed his confidence that these processes are to promote bigger inflow of foreign investments into Azerbaijan.   
The head of state, speaking about his Belgium visit, underlined that meetings conducted there, contributed more to strengthening of bilateral relations.
I.Aliyev, indicating Azerbaijan participates actively in program "Partnership for the sake of peace", underlined that "presently successful cooperation with NATO is continuing in connection with Action Plan of individual partnership. Indicating that Azerbaijan actively participates in "policy of new neighborhood" with European Union, the president Ilham Aliyev stated, relations of the republic with European Union in different areas are  constantly developing.