Ministers for Foreign Affairs of Azerbaijan and Armenia Elmar Mammedyarov and Vardan Oskanayan will meet in London, capital of Great Britain.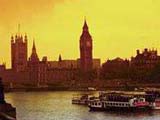 APA was informed of it by Russian co-chairman of Minsk Group of OSCE Yuri Merzlyakov.
He informed that, though the meeting was expected to be held in the midst of April, the exact time is not known yet: "The co-chairmen are agreed on the exact time with the Ministers".
As for the place of meeting being the capital of Great Britain, Y.Merzlyakov stated that, air routes are ensured to London both from Baku and Yerevan:"We chose London for the Ministers to feel comfortable."