Azerbaijan freed dozens of people considered political prisoners by European human rights bodies.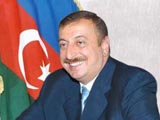 The pardons, announced by President Ilham Aliyev's office, were a key demand by delegates of the Council of Europe, the continent's top democracy watchdog, during a visit last week.
Aliyev's decree freed 115 people, of whom 53 were considered political prisoners by the Council of Europe, including three leaders of Musavat -- the country's largest opposition party -- and leaders of two other parties.
The Council of Europe said last week that elections scheduled for November would only be free and fair if the opposition leaders were released.
Aliyev was declared the winner of the October 2003 poll to succeed his father, Heidar. Opposition parties said the vote was rigged and staged mass protests in the capital Baku and elsewhere.
(Reuters/AP)