Yesterday deputy Minister for Foreign Affairs, Araz Azimov, has held a press conference dedicated to the deliver of report drown out by Fact Finding Mission on illegal settling in the occupied territories of Azerbaijan to Permanent Commission of OSCE in Vienna yesterday.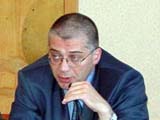 Deputy Minister called the making out and delivery of the report to Permanent Commission important occasion. A.Azimov stated that, the report of 36 pages has been handed to Azerbaijan today, it needs a lot of time for expressing thorough opinion about it:"Generally, Azerbaijan can be satisfied with the report in a certain degree.
The initial analyze shows that, the figures shown in the report, are much closer to the ones presented by Azerbaijan. Azerbaijan says that, 20-23 thousand population settled in the occupied territories, the report says it to be 15-16 thousand and stresses that, the Mission couldn't visit everywhere at all, put down only those facts it observed and counted. According to the report, 8-12 thousand population settled in Lachin, 1.5-2 thousand in Kalbajar,1500 in Gubadli,1000 both in Aghdam and Zengilan and 100 both in Fizuli and Jabrail illegally. "
A.Azimov also added that, the co-chairs added a letter expressing their advice to the report. They demand to stop the settling after it, and say that, if the settled people stay ther for along time it will have negative effect to the resolving process of the conflict. "The co-chairs state that, no demographic changes must happen in the occupied territories, the co-chairs invited international community and donor countries to make allocation for the settled people for sending them back to their territories .This advice is supported by Azerbaijan completely. "A.Azimov considers that, the report and advice should be supported by UNO Head Assembly, too and might be a topic for the next resolution.
Answering the question on the case that, the report was regarded satisfying in mass media of Armenia and Yerevan is not responsible in the settling, A.Azimov said of the people settled in the occupied territories to have come only from Armenia: "Armenians moved from Azerbaijan in 1991, the settling began in 1996.The occupation by Armenia happened in 1992-93.It was impossible for anyone to be settled there during the war.
There is no need to look for a fact whether there is relation between Armenia and Upper Garabagh-the representative of the regime is the President of Armenia at the moment. It is stated in the report of Fact Finding Mission that, infrastructural changes carried out in the territories. Repair of water and energy systems could not be done by the power of individuals. This was done on a state level. These facts show that, all this is carried out by Armenia, settling activity is also pursued by Armenia." /APA/