Congressman Den Barton-representative of Indiana State in USA Congress, member of International Relations Committee made a speech in the House of Representatives and called Congress to recognize genocide of Khojali on February, 18.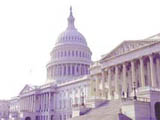 The congressman stated that, by recognizing the genocide of Khojali the USA Congress will break the silence of international public on this matter which lasted for a long time. D.Barton said, though some  members of House of Representatives called  for many years to recognize "Armenian genocide" details of which are disputable, they don't even touch for once the ethic cleaning held by Armenians during Armenia-Azerbaijan war: "Khojali was small city in Azerbaijan till February, 1992.Today this city doesn't exist. The word "Khojali" is the symbol of pain, sadness and cruelty for all Azerbaijanis and for the population of this city. Armenian armed Forces by the support of Russian military regiment destroyed the city completely on the 26th of February in 1992.
The Armenians murdered 613 persons cruelly, killed whole members of families, captivated 1275 persons, and caused 1000 civil population to be handicapped, 150 were lost. "Basing on "Human rights Watch", "Memorial", "New-York times" and other well-informed forces, the congressman stressed that, ethnic cleaning was held in Khojali savagely, innocent women, children and old ones were behaved incredible mercilessly, Armenians even insulted the dead bodies of the victims of the genocide.  
Basing on the reportage of the late journalist Chingiz Mustafayev who filmed what he had seen after the tragedy of Khojali, the congressman told about Armenians savageries having no analogy, that they cut the children's ears, peeled the old woman's face on the left side, carved the men's eyes and brains. D.Barton stated that Armenian armed forces determined the things done in Khojali as a tactical step for themselves in the next stages of the war. Congressman related his attitude with the words of high official of USA government published November 29, 1993 edition of "Newsweek": "That USA official wrote: "We witnessed that, Armenians consider it as a purpose to destroy every village occupied in Azerbaijan. This is barbarism."
Congressman informed his companions that, leaders of Jews, Christians and Muslims in Azerbaijan, call the international society to condemn the cruelty done on February 26 of 1992, try the displaced people return back to their homes, achieve the liberation of occupied lands every year on the eve of Khojali genocide: "Besides, the ones surviving in Khojali genocide and now living in refugee campuses together with 1 million compatriots hopefully and painfully apply with the same appeal to the international society, and want Armenia to be charged for the crime done".
Congressman stated with satisfaction that, the facts that a great territory of Azerbaijan is under the occupation of Armenia and the control of Upper Karabakh region is still under the control of separatist powers are recognized by Parliamentary Assembly of Council of Europe with the last resolution. /APA/