The prisoners raised a riot in prison enterprise ?11 at about 10a.m yesterday morning.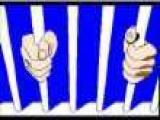 According to the information of spokesman of APA in the place of the event, a group of prisoners climbed up the roof of the prison and raised white flag, made slogans.
They demanded to dismiss prison administration especially chief, Ogtay Hasanov.
The prisoners stated there is intolerable condition in the Prison. Elementary sanitary rules are not observed, the beds are sold, the prisoners are treated roughly, are tortured. The relations of the prisoners informed the spokesman of APA bribery and corruption is observed in the Prison obviously. Money is demanded for meeting with the imprisoned, passing thing or food to them.
The imprisoned demanded Ministry of Justice, Ombudsman, representatives of law-protection organizations, mass media to come to the place of the event. The talks held with them have remained without any results. From the officials only Natig Talibov-deputy chairman of Head Office of Court Decisions of Ministry of Justice (HO CDMJ) came to prison ?11. As to the spokesman of APA, the journalists in the place of event are kept apart and not permitted to come near the Prison. The prisoners are keeping on holding actions. Though the information was confirmed from the HO CDMJ, no official explanation has been given yet.