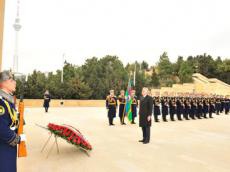 Serbian President Tomislav Nikoli? and his spouse Dragica Nikoli? have visited the Azerbaijan Diplomatic Academy (ADA).
They met rector of the Academy Hafiz Pashayev, who spoke of prospects for developing the cooperation between the two countries.
He noted the diplomatic academies of Azerbaijan and Serbia would embark on a teacher and student exchange program soon.
Pashayev touched upon an ADA-hosted exhibition dedicated to popular Serbian writer and diplomat Ivo Andri?, expressing confidence it "will give a push to deepening the relations between our nations".
The Serbian President thanked the ADA rector for the organization of the exhibition dedicated to Andri?.
President Tomislav Nikoli? said similar exhibitions had been arranged in more than 40 countries.
The meeting with the Serbian leader at the Azerbaijan Diplomatic Academy was attended by state and government officials as well as representatives of the diplomatic corps in Azerbaijan.


*****
08.02.201314:50

President of Serbia Tomislav Nikolic has today visited the Alley of Martyrs to pay tribute to Azerbaijani heroes who sacrificed their lives for the sake of independence and territorial integrity of Azerbaijan.
A guard of honor was lined up for Tomislav Nikolic here.
The President of Serbia laid a wreath at the Eternal Flame monument.
A military orchestra played the national anthems of Serbia and Azerbaijan.
***
President of Serbia Tomislav Nikolic has today visited the Alley of Honors to lay a wreath at the tomb of national leader, founder and architect of modern Azerbaijani state Heydar Aliyev.
The Serbian leader also put flowers at the grave of prominent ophthalmologist, academician Zarifa Aliyeva.


/AzerTAc/