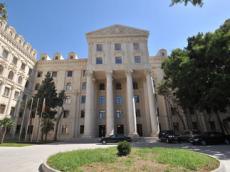 Political consultations were held at Azerbaijan Foreign Ministry on October 1, between Azerbaijani and Columbian diplomats.
Deputy FM Khalaf Khalafov from Azerbaijani side and Monica Lanzetta Mutis from Columbian side headed the delegations of two countries
Khalaf Khalafov expressed his satisfaction on development of cooperation between two states. Deputy Foreign Minister also informed the guest on development and many-sided reforms in Azerbaijan. Columbian Deputy FM also was told on Nagorno Karabakh problem and how Armenia tries to hinder negotiations process.
In her turn Ms. Monica Lanzetta Mutis expressed her pleasure for being on a visit in Azerbaijan. He noted that Columbia is interested in cooperation between Azerbaijan and Columbia.
/
APA
/