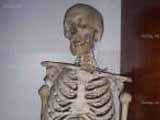 Back in 1919, the Department of Anomalous Human Anatomy was established in Azerbaijani capital. Later, the same department opened a "Museum of Bones", which later on got widened, and became Museum of Anatomy. Nowadays, this museum is a part of Azerbaijani Medical University, and consists of 4 separate halls. The halls contain different specimen on various topics. Musculoskeletal pieces, Internal Organs gallery, Museum of Human Anomalies - its all there.
Whats somewhat scary about the Museum is the fact, that pretty much everything in it is real. Human skeletons, little children skeletons, various fetuses, abnormalities, internal human organs, even the evolution of fetus in different stages of pregnancy - everything is real.
Based on this fact alone, the Museum is considered one of the best in the whole world, if not the best. Since soon the Museum is to celebrate its 90th (!) anniversary, we decided to shed some light on this museum for our readers. Another thing we think our readers should know, is that some of the skeletons and internal organs from the museum actually were bequeathed to the Museum by the people, who worked in the Department for a long time. Anyway, enough of this talk, scroll down for the scary, bizarre, unique pictures of the museum, that we managed to take.
WARNING: Those with weak stomaches or hearts better stay away from this gallery.
/Today.Az/
Click pictures to enlarge:
Photographed by: Leyla Ismailova