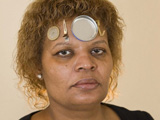 Not only does the 50-year-old accounts manager from Holloway, North London, say that metal items including coins, keys and even tin lids attach themselves to her, she also claims that she inadvertently sets off car alarms, blows light bulbs and interferes with TV signals. Or maybe she's just got rather sticky skin.
She says that she's been aware of her powers since nursery school, when she started affecting electrical equipment - but it wasn't until earlier this year that she discovered metal object would stick to her. The novelty has long since worn off, apparently, with Allison saying that her 'magnetism' now mostly being an embarassment.
She is far from the first person to claim human magnetism - many others have claimed to have similar powers, often supporting much larger metal objects than Brenda does. Most famous are the Tenkaev family in Russia, where the supposed powers stretching across three generations, with grandfather Leonid Tenkaev reportedly able to lift 23kg objects with his chest.
There was even a conference devoted to human magnets in 1990. The Superfields conference in Bulgaria attracted 300 allegedly magnetic people - although the 'powers' don't actually seem to have anything to do with magnetism, as non-metal objects are often held as well.
This applies equally to Miss Allison, of course - despite her claims that her stickyness is down to her body generating an unusually strong electromagnetic field, most of the coins she has stuck to her in the above picture aren't magnetic. (Only the copper-plated steel 2p coin would stick to a real magnet; the copper-nickel alloys of the other coins wouldn't.)
One of the earliest human magnets, a young girl from Georgia, USA named Lulu Hearst, gained fame for her feats of magnetism in the late 19th century - but eventually admitted that it was all achieved with simple trickery. Miss Allison says that doctors have advised her that her 'magnetism' may be due to stress.
/Metro.co.uk/