Saddam Hussein made his palaces a desert paradise, but now his hometown is seeking foreign investors to turn the late dictator's playground into a tourist mecca.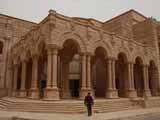 Local officials see the 76 abandoned Saddam villas sprawled across hundreds of hectares (acres) as a potential gold mine for Tikrit's cash-strapped Salahuddin province.
"These villas only need rehabilitation and a few other things to turn the whole area into a wonderful tourism site," Jewher Hamad al-Fahel, the head of Salahuddin's investment commission, told Reuters Television.
Saddam built big at Tikrit, his tribal stronghold about 95 miles north of Baghdad. He put up six villas at his birthplace, the village of al-Awja, alone and made the Tikrit palace complex his largest.
Boasting artificial lakes and date orchards, the site totals 136 buildings and covers more than 1,000 acres, according to the U.S. Army. American troops used it as a base until turning it over to Iraqi authorities in November 2005.
Now many of the sand-colored structures, often domed and turreted and with marbled interiors, sit decaying near the Tigris River. Some still show heavy damage from the 2003 U.S.-led invasion that overthrew Saddam.
Salahuddin Governor Mutasher Hussein Allawi said he was eager to smooth the way for foreign investment in the villas since his budget was too small to rebuild decrepit infrastructure quickly.
"Iraq needs huge investment companies, because the devastation that took place after 2003 is something terrible," he said.
Foreign tourists to Iraq are overwhelmingly Muslim pilgrims visiting holy sites, with a handful of visitors drawn to ancient ruins.
The number of religious visitors hit 1.25 million last year, more than doubling since 2007 as violence has eased, according to a Tourism and Antiquities Ministry spokesman.
Iraqis seeking an in-country getaway tend to go to mountain areas in the north.
Tikrit's would not be the first Saddam mansion to be turned into a resort. A guesthouse at a hulking palace at Babylon, 60 miles south of Baghdad, has become a popular spot for honeymooners.
Central and southern Iraq hold about 160 Saddam mansions, 60 in Baghdad alone. Those in the mainly Kurdish north have yet to be tallied.
On a bustling Tikrit street, resident Abdulla Mohammed said he welcomed foreign investment.
"Salahuddin's security situation is good compared with other provinces, we are upbeat about the future," he said.
Salahuddin province's stance underscores Iraq's eagerness for outside investment. Deputy Industry Minister Adel Karim told Reuters Iraq could offer production-sharing deals with state companies to draw foreign investors.
/Reuters/