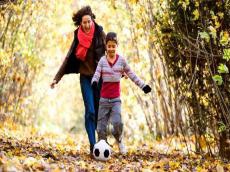 Katie Perhach, a partner in the law firm Quarles & Brady, was among the first to leave her office the other day, and she's pretty proud to say it.
There's an expectation in a lot of workplaces that you can't be a manager and also have a life.  
It was before 17:00, and the 475 people she manages at the firm's Milwaukee, Wisconsin office were still hard at work. But Perhach had a baseball game to catch — her 11-year-old son's.
"He made a great catch in left field," Perhach recalled. "He had a big smile on his face. I wouldn't have missed that moment for the world."
Perhach has found the right work-life balance and can prioritise what's really important to her — those cherished life moments. But not all managers are so lucky. Many in supervisory positions believe they must be the first one in and the last one out of the office, that their empty chair is a sign for employees to slack off, that the job comes first at all costs.
"There's an expectation in a lot of workplaces that you can't be a manager and also have a life," said James Adonis, an employee engagement and team leadership consultant in Sydney, Australia.
It doesn't have to be that way. Plenty of research supports the idea that working long hours makes people less happy and less productive.
If you're a manager who's always in the office, consider the message it sends to your staff. Managers who stay at the office just to keep up appearances give the impression that they're not good at time management, Adonis said. More importantly, your staff will think you don't put a value on life outside the office.
"The message you need to send is that we don't have to live at work, that you can work for me and also have a life," Adonis said.
The end game
Managers need to focus on results rather than face time in the office, said Stewart Friedman, professor and head of the Work/Life Integration Project at University of Pennsylvania's Wharton School. Back in 2001, when Friedman was a senior executive with Ford Motor Co, he created a leadership programme that stressed outcomes rather than face time. This resulted in more productive employees who were happier about their jobs.
Not sure your boss will go for it? Friedman suggests devising a two-part plan before you pitch the idea.
First, prioritise what's most important and decide how much time that realistically requires. Ask your family and friends what they'd have you do if you were around more. This isn't about slacking off — it's about actually scheduling time for the things that are important to you. It could be visiting mum in the retirement home on Tuesdays or catching a daughter's gymnastics practice on Thursdays.
"What people expect of you is often much less than you think. The answer often times is just a little more quality time, a couple hours a week where you're psychologically there, not thinking about work or checking email," Friedman said.
Next, come up with a plan to present to the higher-ups on how you can break away more. Make it reasonable, Friedman said, and any reasonable boss should say yes. Perhaps it's just a proposal that you'll duck out of the office at 15:00 on Tuesdays and tune out your email and phone calls. Before your supervisor says no, explain there won't be a hit to your productivity. Try it for a month, and if you've missed your benchmarks, promise you'll be back in the office on Tuesday afternoons.
"People always say that they can't leave the office because their boss won't let them," Friedman said. "But the onus is on you to see what you can get under your control."
Restructure your day
It's also about restructuring your day, Perhach added, getting away from the traditional mindset of eight-hour days, or in many investment banks and law firms, 16-hour days. Perhach said she's able to pull off leaving early occasionally because she established herself at the firm and gets the job done, logging back in the evenings if necessary.
"Once I developed a reputation as a hard worker, people [don't] notice as much that [I'm] not at [my] desk every minute of the day."
That night, after catching her son's game, they ate $3 burgers at the ballpark. Then it was home to put her three boys in PJs and tuck them in. Once asleep, she fired up her laptop in the desk off her kitchen to check back in with work.
By then, she was still glowing thinking about that catch her son made. Sure, she was working again, but she was happier, having created a balance with what's important in life and at work.
"This wouldn't work if I hadn't established myself as someone who can get things done," Perhach said. "You have to have a history of success, and then people are going to trust that you can accomplish things without constantly being at your desk."
Sure, she could have stayed at work and looked busier to her staff, but Perhach doesn't like the sound of that: "I don't even want to think about missing that catch."