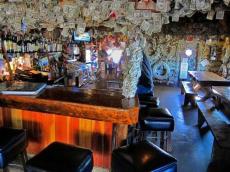 While many cafés and bars choose to display their patrons' praise on sticky notes or paper napkins, a watering hole in Homer, Alaska, has every last inch of its walls and ceiling covered with dollar bills signed by its satisfied customers. Because of its quirky interiors, Salty Dawg Saloon is in fact a cherished landmark of Homer Spit – a 4.5-mile piece of land jutting out from Homer on the southern tip of the Kenai Peninsula, into Kachemak Bay.
There is no shortage of bars in the town of Homer, but locals prefer driving all the way to the Spit and into Homer Boat Harbor, just to visit the peculiar Salty Dawg. Some of the patrons who visit the bar don't even drink alcohol, but the place is so famous for its money plastered interior that many tourists just stop by to see it for themselves.
The tradition of sticking dollar bills started when a visitor walked in a few decades ago and tacked a dollar on the wall. He explained that his friend would later drop by and use the buck to buy himself a drink. The trend soon caught on and by the early 90s, everyone who came in started to add bills with comments of praise. Today, it's hard to find a free spot to post a new dollar bill!
The building that now houses the bar started out as a homestead cabin – one of the first structures that went up in 1897, when the Alaskan town was established. After serving for several years as the town's post office, railroad station, grocery store, coal mining office, and a Standard Oil office, it was finally converted into the Salty Dawg Saloon in 1957. It is currently the only bar located in Homer Spit.
The bar had its fair share of problems – in 1964 it was flooded after the powerful Good Friday Earthquake. But the structure was renovated and a distinctive lighthouse tower was added at the same time to cover a water storage tank. The new structure has now emerged as one of Homer's most historical and recognizable landmarks.