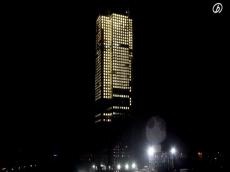 Chinese construction company Broad Sustainable Building recently released an online video showing how they managed to build a 57-storey building in a record time of 19 days. 'Sky City', located in Changsha city, comprises 800 homes and office space to accommodate a total of 4,000 people.
The company's original proposal for the site was actually a 97-storey building that would have been the world's largest skyscraper. But just after 20 stories were completed, construction work was stopped for one year because local officials wanted to review the plans. Ultimately, they had to reduce the plan to 57 stories due to the building's close proximity to the airport.
In spite of the major delay, the entire construction from start to finish was completed in less than three weeks of work. The 4-minute clip shows employees building each storey offsite and delivering it to the location. A timelapse sequence shows the assembling of the mammoth building which require a total of 19 days to complete – that's exactly three floors per day!
The key design element of Sky City is a 'sky street' that connects the building vertically. The street is basically a 3.6-kilometer ramp that connects 19 10-meter high courtyards or 'squares'. The courtyards can be used for various activities such as basketball and tennis courts, theaters, or even vertical farms.
The use of modules in Sky City reduced the use of concrete by 15,000 trucks, which pretty much eliminated dust pollution of the surrounding air. They also claim that the air inside Sky City is 99.9 percent pure because of the tight construction and built-in air conditioning system. The building's quadruple-pane glass is so energy efficient that it will save 12,000 tons of carbon dioxide emission, compared to any other building of the same size and use.
Broad Sustainable Building has a presence in 70 different countries. They apparently have several timelapse videos showing how quickly they've erected buildings in the past.