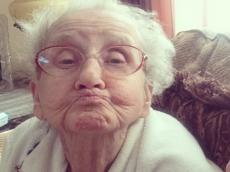 "Love everybody and be good to everybody. That's the main thing."
Those are the all-caps words that greet visitors to Grandma Betty's website.
And you can expect an uptick in the number of visitors, after the inspirational Instagram celebrity (real name: Betty Jo Simpson) from Jeffersonville, Indiana, succumbed to lung cancer Saturday, eight months after she was diagnosed.
Appropriately, word of the beloved 80-year-old great-grandmother's death was posted first on Instagram, attached to a photo of her beloved dog Harley, alone, in the rocking chair she sat in so often in her Instagram snapshots.
"After a much needed night of rest , Grandma has come to peace with her battle of Lung Cancer. Although Grandma Betty is no longer physically with us, she will forever be in the hearts of the millions of people she touches every single day. Grandma Betty did not lose her battle to cancer, because her legacy she has left behind will inspire millions of people to #Smile, #BeHappy, and #StayHappy no matter what. The fight has ended. The battle is won," the online epitaph read.
As of Saturday evening, Simpson had more than 682,000 Instagram followers, drawn by her amusing videos, positive messages and fighting spirit.
To the general public, the legend of Grandma Betty began around the time of her cancer diagnosis, when her 18-year-old great-grandson, Zach Belden, decided to document the remainder of her life.
"Before grade school, I didn't have a babysitter. I had my grandma," Belden told CNN's Jarrett Bellini in March. "Many of my friends knew Grandma. And it was a neat way to connect her to them."
Despite her advanced age, and the cancer, Betty grew quite savvy about social media, even learning to take selfies, though Belden admitted that process was "harder than it probably seems."
Now, the woman who defined herself on Instagram as a "Cancer Fighter" and "Follower of Jesus" is no longer with us. But she'll live on in the pictures, words, and spirit that made the social media generation fall in love with the octogenarian.

/CNN/