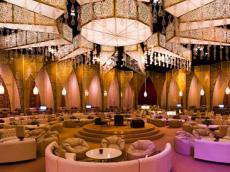 It may be a time of fasting, but the Muslim holy month of Ramadan can also be a time of indulgence. (Ramadan begins this year on June 28 or 29, depending on which part of the world is observing.)
In several countries, there's a tendency toward overeating as the traditional light dawn meal, the suhoor, and post-fast iftar get super-sized.
In Dubai, health warnings are issued -- cases of diabetes and chronic indigestion have been known to spiral.
For those who can control their appetites and savor the experience, there's a lavish world to be enjoyed in Bedouin-like tents laid on by luxury hotels in the United Arab Emirates.
These elaborately decorated pool, beach or desert-side pitches compete with each other for Ramadan tent wow factor.
Some mega-tents seat hundreds.
Live cooking stations and superstar Lebanese performers are all part of the fasting-to-feasting scene.
So are shisha parlors -- where revelers smoke multi-flavored tobacco with the hookah or hubble bubble water pipe.

/CNN/