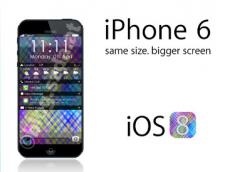 If you've got your fingers crossed for an iPhone 6 with a large 5.5-inch display, you may have to be patient. A new Reuters report notes that a 4.7-inch iPhone screen will enter production as soon as this May, while a 5.5-inch variation will be made months later.
According to Reuters, Apple has enlisted Japan Display Inc, Sharp Corp and LG Display Co Ltd to manufacture the upcoming displays. The report also notes that, like the iPhone 5, the iPhone 6's display will use in-cell production technology to keep the device thin.
This production report is consistent with rumors that Apple may launch two differently-sized variations of its iPhone this fall. The smartphone giant launched two devices simultaneously last year with the iPhone 5s and 5c, though those two handsets sported the same screen size.
The iPhone 6's 4.7-inch and 5.5-inch displays, which are both larger than the 4 inches found on the iPhone 5, are also expected to sport a stronger sapphire crystal build. According to DisplaySearch, the 4.7-inch model could have a 1600 x 900 resolution with the 5.5-inch variation packing 1920 x 1080 pixels.
We'll have to wait and see if this two-display report holds up, but at least it looks certain that iPhone fans will get a screen that's close in size to the Galaxy S5. The Galaxy Note challenger will apparently just have to wait.

/Yahoo/