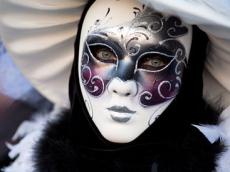 Every spring Halloween meets haute couture at the Carnival of Venice.
Culminating March 4 after nearly a month of masked frivolity, Italy's most popular festival draws up to three million visitors annually.
Wearing feathered headdresses, flowing capes and, most importantly, a bevy of bejeweled masks, they enjoy a giant masquerade party that spills onto the streets and into the canals.
The Piazza San Marco is the epicenter of the action, especially during preliminary rounds of the Maschera più bella contest for the best masked costume.
Every day dozens of masked contestants stomp down the runway of the Gran Teatro, a temporary outdoor theater, hoping to make the grand final. Costumes skew toward the elaborate, with men and women dressed as brightly-colored court jesters, kabuki princesses, and glittering animals.
Regardless of the outfit, Venetian masks—a symbol of the city and a focal point of the carnival—are essential to any winning ensemble.
During the final, contestants pout and vogue in front of an international panel of costume, fashion and mask designers.
The 2012 winners—a group of five men and women from Germany—wore billowing pink and purple dresses with matching masks. They appeared to be masquerading as Marie Antoinette's tea servants.
As a child Maximiliano Gimenez learned the craft from his uncle. Today he runs Blue Moon Venice, an atelier and retailer. He and his 15 artisans produce roughly 15,000 Venetian masks per year and are currently training two young apprentices. Some of his staff have been making masks for more than twenty years.
The influx of low-quality masks, which retail for a few dollars, also distorts the expectations of consumers who begin to question why authentic Venetian masks can cost several hundred euros.
Gimenez of Blue Moon Venice believes his masks carry the soul of the city with them.

/AzerTAc/