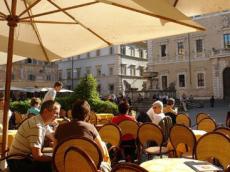 Fifteenth-century Arabs were the first to cultivate coffee and a Frenchman was behind the 1843 debut of the world's first commercial espresso machine.
There have been a few leaps forward since then.
"People are more and more interested in where the beans come from, and how they're harvested and roasted," says New Zealand barista champion Nick Clark of Wellington's Flight Coffee.
"There are so many variables involved in producing a great cup of coffee these days, and the industry has had to evolve to meet growing consumer expectations."
The world's best coffee cities are those where the coffee isn't just good -- it's great.
London
Aussies and Kiwis opened the city's first espresso-focused coffee shops (such as Flat White and Kaffeine) a decade ago and they've been popping up across the city ever since.
"London still has a long way to go with café service, but in the past five years there's been so much growth, which is a great thing to be part of," says Estelle Bright, head bartender at London's Caravan.
Melbourne
"The coffee culture in Melbourne is just incredible," says reigning World Barista Champion Pete Licata, from the United States.
Coffee is such an integral part of the Melbourne lifestyle that the city even hosts an annual coffee expo.
While lattes, cappuccinos and flat whites remain popular, piccolo lattes (made with less milk so the espresso tastes stronger) are the drink du jour.
Reykjavik, Iceland
After the Dutch, Scandinavians have the highest coffee consumption per capita in the world.
While Finns drink the most among Scandinavians, Icelanders are also coffee crazy.
"Not too long ago, cafés in Reykjavík were more about the food," says Kristin Thora, a barista at Icelandic institution Kaffitar and reigning National Cupping Champion.
"You'd have coffee and cake and didn't mind how the coffee was as long as the cake was good.
"Then, about 25 years ago, people started to care about how their coffee was served."
With Iceland's lack of commercial coffee behemoths, smaller businesses have had a chance to flourish.
Now you can hardly walk a city block without passing a coffee shop.
Rome
Coffee is so much a part of Italian culture that you'll rarely encounter a local who doesn't drink it.
But believe it or not, it's not always that easy to find a decent espresso in Italy, with critics whispering that Italians have been resistant to adopt modern barista techniques.
But with the best of the nation's baristas calling it home, Rome is your best bet for a quality cup.
Singapore
"Coffee has always been an integral part of Singaporean life, but we've only recently embraced modern espresso technology," says Jovena Loon of Café Hopping Singapore. "Locals have become so obsessed with latte art that it has become a basic criteria for a good café."
Seattle
If there's one American city that's consistently ahead of the game, it's Seattle.
The green mermaid is only a small part of the hometown coffee scene.
"Coffee is our liquid sunshine in Seattle," says Joshua Boyt from Victrola Coffee Roasters, one of the city's best cafes for coffee geeks.
"Passion for the product, coupled with the sheer number of coffee shops across the city, has created a culture of constant improvement through competition and camaraderie."
Local order: Espresso, cappuccino or a single-origin pour.
Vienna, Austria
They're such an important part of Viennese culture that the city's coffee houses were listed by UNESCO in 2011 as an Intangible Heritage.
But modern coffee connoisseurs such as Vienna coffee blogger Lameen Abdul-Malik of From Coffee With Love admit that the standard of coffee in these beloved institutions, which act as public living rooms where people come to chat, read newspapers and eat strudel, are lagging in terms of coffee technology and service expectations.
Perhaps not for long.
"Since Vienna hosted the World Barista Championships in 2012, and new-style independent coffee shops began to open up, the quality of espresso drinks is steadily improving," says Abdul-Malik.
Wellington, New Zealand
While the ubiquitous flat white was purportedly invented in Sydney, the drink was perfected in Wellington, where it's become the nation's unofficial national beverage.
"Wellington-ites really know their coffee, and there is a very high standard being served around the city," says Clark. "Wellington is also a small city; there's a lot of interaction between consumers and professionals, which helps our industry to improve and grow."

/CNN/