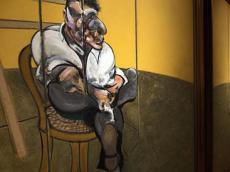 A portrait by British artist Francis Bacon depicting his lover and muse George Dyer sold for over £42 million ($70 million, 51 million euros) at Christie's in London on Thursday, a European record for the auction house.
Oil masterpiece "Portrait of George Dyer Talking", painted at the height of Bacon's powers, was first shown in Paris in 1966 -- the year of its creation -- and then at the artist's legendary first museum retrospective at the city's Grand Palais five years later.
The exhibition opened two days after Dyer had committed suicide.
The six-foot (1.83 metre) tall painting shows a contorted Dyer sitting on a stool under a bare light.
It is the most ever spent on a single-panel work by the figurative artist, who died in 1992.
A Bacon triptych -- "Three Studies of Lucian Freud" -- sold for $142.4 million in New York last year, smashing the world record for the most expensive piece of art auctioned.

/AzerTAc/