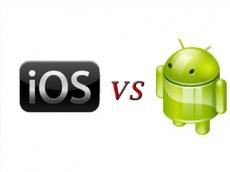 For anyone paying attention to the smartphone market, the fact that Google Inc. (NASDAQ: GOOG) and Apple Inc. (NASDAQ: AAPL) dominate the market is certainly no big shocker. Together the two companies accounted for 95.7% of all fourth-quarter 2013 shipments and 93.8% of all 2013 shipments. Those totals are up 4.5% year-over-year for the fourth quarter and 6.1% over 2012 totals. The data was published Wednesday by IDC.
Global shipments in 2013 totaled more than 1 billion for the first time ever and smartphones using the Android operating system from Google nabbed nearly 800 million of those sales. Samsung Electronics led all Android vendors with a 39.5% share of 2013 shipments.
Apple's iPhone shipments totaled 153.4 million in 2013, up nearly 13% over 2012, but the Apple's overall market share fell from 18.7% in 2012 to 15.2% last year.
IDC noted that smartphones costing less than $200 now command 42.6% of the global market. Android's availability on phones from a long list of hardware makers and a variety of phones at price points all along the spectrum are the reasons for its increasing dominance. And that market position is likely to grow as the less expensive phones are introduced into more emerging markets.
Microsoft Corp.'s (NASDAQ: MSFT) Windows Phone platform posted the largest quarterly and full-year gains, up 46.7% and 90.9% respectively. Nokia Corp. (NYSE: NOK) had 89.3% of those shipments. But total fourth-quarter shipment volumes were just 8.8 million units, compared with 226.1 million for Samsung and 51 million for Apple.
BlackBerry Ltd. (NASDAQ: BBRY) shipped just 1.7 million units in the fourth quarter and took just 0.6% of the market. Year-over-year the company's market share fell by 77%. How BlackBerry is supposed to turn that around is really a mystery.

/Yahoo/