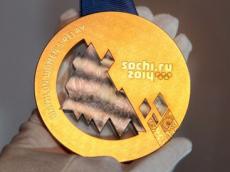 Gold medals being awarded to the world's top athletes at the 2014 Winter Olympics in Sochi, Russia, are not worth their weight in gold, Pittsburgh Post-Gazette reported.
The coveted first prize medals are actually made of silver and plated with a micro-thin layer of gold to distinguish them from the silver and bronze awards.
This year's gold medals are the largest and heaviest ever produced - 4 inches in diameter, 0.4 inches thick and weighing 1 pound each. If they were solid gold, each one would be worth about $21,500 at today's prices. Since they actually contain only 6 grams of gold layered on top of 525 grams of silver, they're worth about $550.
Silver medals - weighing 525 grams of silver - have a current market value of about $310. The bronze metals, which are made of copper mixed with zinc and tin, contain about $3.25 worth of metals.
The last time athletes in Olympic games received solid gold medals was at the 1912 summer games in Stockholm, Sweden, more than a century ago, according to the website Resource Investor.
"With budget constraints worldwide and with the sheer number of medals that are produced and given out at the Olympics, it's understandable that the Olympic committee has decided to go this prudent direction," said Eddie Lowy, owner of Banner Coins, Downtown.
Gold closed at $1,267 an ounce Friday, while silver closed at $20.02 an ounce.
A record 1,300 gold medals were made for the Olympics, thanks to 12 new events, including women's ski jumping; a figure skating team event; a luge relay; biathlon mixed relay; a snowboard and ski slope-style event; a ski half-pipe; and a snowboard parallel special slalom.
Along with the iconic Olympic rings, the Sochi medals also depict the landscape of the host community, with the sun's golden rays reflecting through a prism of snowy mountaintops onto the sandy beaches of the Black Sea coast.
All totaled, according to the International Olympic Committee, the medals were crafted from a stockpile of 2 tons of silver, 700 kilos of bronze and 6 kilos of gold.
Even if someone wanted to take an Olympic gold medal to a scrap dealer and harvest the gold, it might not be worth it. The gold is layered on top of the coin rather than mixed in. The market value of the medal as a collector's item would far exceed the value of its precious metals.
"It's essentially zero carat gold," said Blaine Shiff, co-owner of Cybercoins.net in Dormont. "It's plated. You couldn't really sell it for scrap. It's not even up to the standard of what you'd get in the jewelry section of a department store where 10 carat is the lowest standard for a gold jewelry item."

/Trend/