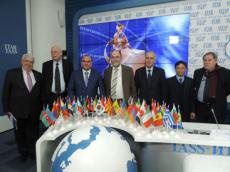 The results of World Rating 2013 survey, which was conducted among 175 news agencies and news media outlets, have been announced.
Russian President Vladimir Putin was named as world politician number one by media people of global news media community.
Pope Francis and German Chancellor Angela Merkel and U.S. President Barack Obama were also named at several first positions in the rating.
Nobel laureate, British physicist Peter Higgs was named scientist number one in the world, winner of the 2013 Nobel Prize in literature, Canadian writer Alice Munro won the number one's cultural personality title in the world.
Russian government-run news agency ITAR-TASS initiated the world survey among news agencies and news media outlets. This survey became the first poll of its kind among media people of professional news media community. Members of all international regional unions of news agencies, including the European Alliance of News Agencies (EANA), the Organisation of Asia-Pacific News Agencies (OANA), the Federation of Arab News Agencies (FANA) and the Black Sea Association of National News Agencies (BSANNA) were offered to participate in the survey.
Survey results were presented to the International Council of Experts, which today convened in Moscow. The Council includes OANA President and ITAR-TASS Director General Sergey Mikhailov, OANA Vice-President and Director General of Azerbaijan State Telegraph Agency (AzerTAc) Aslan Aslanov, Secretary General of the World Council of News Agencies Uffe Sorensen, EANA Secretary General Erik Nylen, FANA Secretary General Farid Ayar, BSANNA Vice-President Maxim Minchev and First Deputy Director General of the Vietnamese News Agency Le Duy Truyen.
The International Council of Experts and ITAR-TASS will award winners of the survey with memorial signs.

/AzerTAc/