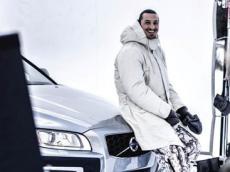 A striker for the Paris Saint-Germain club and the captain of the Swedish national team, Zlatan Ibrahimovic is the star of Volvo's latest campaign. The car maker also enlisted the help of Swedish music producer Max Martin -- who has crafted hits for the Backstreet Boys, Britney Spears, Taylor Swift, Katy Perry, Céline Dion and others -- in this homage to Sweden.
Zlatan Ibrahimovic, his wife and their two sons were filmed in the north of Sweden for this two-minute campaign video, which promotes the Volvo XC70 as a car built for the harsh climates and vast spaces of the Swedish wilderness. The soundtrack to the clip was written and produced by Max Martin as a modern take on the Swedish national anthem, with Ibrahimovic reciting the words.
This campaign is targeted primarily at the Swedish market, but Volvo is expected to produce a second video with the famous athlete for international audiences before the end of the year. This second collaboration with Ibrahimovic will spotlight the Volvo XC60.
Before joining Paris Saint-Germain, 32-year-old Ibrahimovic lent his talent to several other renowned European clubs, including Ajax (Amsterdam), Juventus (Turin), Inter (Milan), FC Barcelona and Milan AC. He is also the captain of the Swedish national team and has been chosen eight times as Swedish soccer player of the year.

/Yahoo/