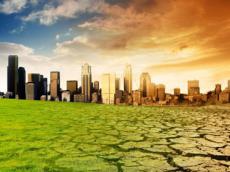 The Earth risks losing up to 30 percent of the presently existing animal and plant species due to climate change. Researchers have found that the global climate is changing too fast for living organisms to catch up with it. At the same time, climate change may lead to the appearance of entirely new ecosystems.
Rising temperatures, desertification and the shrinking volumes of fresh water are to blame for a decrease in biodiversity. The latest studies show that salmon populations off the North American coasts have plummeted by dozens of times in recent years. Coral reefs are on the brink of extinction. Higher atmospheric temperatures cause the depletion of nutrients and consequently the bleaching and death of corals.
Low rainfalls and hotter summers in Australia are putting kangaroos and other pouched mammals at risk. Drier and less predictable weather in Africa south of the Sahara Desert has significantly cut down elephant habitats.
Climate change alters geographic landscape. In Europe, fast-expanding forests are threatening to destroy the Alpine meadow ecosystem: the sun-loving Alpine daisy, the black Alpine sedge and other meadow grasses cannot survive in the shadow of large trees. "Some insect species and pests that normally live in the south have been found in the Moscow region. Plant diseases more characteristic of southern areas have become more common here, which makes it is safe to suggest that warm-weather southern plants are gradually moving northward. Farmers in Central Russia grow grapes and other southern fruit tree species," Kruchina told the Voice of Russia.
Higher altitudes are most prone to climate change. Melting ice sheets and seasonal snow covers are a disaster for polar species living on ice caps.
"Walruses and polar bears are the worst hit. Polar bears usually hunt on ice, but because there is fewer ice, things become critical for them during the summer season. So, they start hunting small rodents and birds and often come into villages where they are confronted by men. The number of clashes that prove fatal both for bears and humans is on the rise. Things aren't any easier for walruses. Being an ice-hunting species, they are very reluctant to go ashore," said Mikhail Stishov, WWF Russia Arctic Biodiversity Coordinator.
Global warming may eventually result in large predators becoming smaller. It already happened at least once in the past: around 55 million years ago after the extinction of dinosaurs there was an episode of intense and rapid warming. Mammals became much smaller during that period. Scientists attribute it to lack of food. High-levels of carbon dioxide reduced the amount of nutrients in plants.
Some researchers assume that modern climate change may be twice or perhaps three times as fast, which means that there is much less time for plants and animals to adapt themselves to new conditions in order to survive.

/AzerTAc/