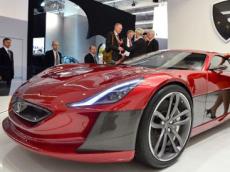 At full speed, the Rimac Concept_One is little more than a cherry red blur, flashing from one corner of the horizon to the other in the blink of an eye.
If its projected performance figures prove to be true, this radical electric concept car -- the brainchild of an award-winning young Croatian designer -- could accelerate faster than all but two of the fastest supercars on earth.
The Rimac Concept_One's figures are impressive. Not just for an electric car, but for traditional petrol-engine cars as well.
For years electric vehicles have been regarded as the frumpy inner-city siblings of their hardier countryside 4x4 brethren or zippier track-friendly supercar sisters. Electric vehicles have tended to have names like Leaf, Buddy or Spark as opposed to Vanquish, Venom or Phantom.All this may be set to change when Rimac goes into production. First unveiled at Frankfurt Motor Show in September, 2011, the Concept One is an electric vehicle that aims to be even faster than the Bugatti Veyron. Its precocious 25-year-old inventor, Mate Rimac, says that the car produces 1018 horsepower, can accelerate from 0 to 100 kph in just 2.8 seconds, has a top speed of 305 kph, and can travel 600 kilometers on a single charge.

/CNN/