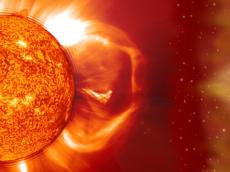 By AzerNews
Scientists have warned of Geomagnetic storm hitting our planet soon.
Namig Jalilov, head of the Shamakhi Astrophysical Observatory of the Azerbaijan National Academy of Sciences said his team had detected a powerful X1-class solar flare on January 7. He went on saying: "Usually, the particles ejected from the explosion reach the Earth in two or three days. It depends on the energy and quantity of the ejected mass. Some magnetic perturbations are expected on the Earth."
He warned people suffering from cardiovascular diseases against the consequences of the strike adding such people may feel these perturbations.
Solar flares are followed by a burst of energy which includes significant amounts of ultraviolet and X-ray energy released by the Sun. The flares are classifies according to the amount of X-ray energy that they release. The most energetic solar flares are the X-class solar flares, while C classes are considered minor ones. Each class is subdivided into subclasses from 1 to 9. The strongest solar flares is X9-class.
Powerful X-class solar flares can produce major geomagnetic storms and significantly disrupt radio communication on Earth, as well as significant aurora activity.
As every natural phenomenon, the geomagnetic storms have an impact on the human health. The influence of magnetic storms can be compared to the effect of heavy exercises, which can be easily handle by the healthy people, but hardly endure by people with different health problems.
The storms are strongly felt by older people and those who suffer from different cardiovascular, neurological and digestive disorders. However, the influence of the magnetic storms can be reduced by more physical activity and consumption of food rich in vitamins, and plenty of fluids.