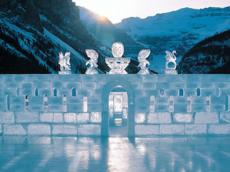 Following a successful stop in Paris, the International Festival of Ice Sculptures 'Ice Magic' will be visiting Brussels for the first time, in the sumptuous setting of the Place des Palais.
Cartoon characters came to life during Brussels Ice Magic show which opened to the public over the weekend, featuring more than 1,000 square meters of ice sculptures. Some 25 ice carvers from all over the world spent almost 60 days creating the giant ice freezer full of larger than life comic strip characters.
The sculptures are being housed in a pavilion built of ice and over seven meters high. In order for the icy characters like Tintin, Asterix, and the Incredible Hulk to survive the pavilion has to have a constant temperature of minus 6 up to minus 8 degrees Celsius.
More than 400 metric tons of ice blocks were brought into the freezer for the artists to use ice picks, chisels and chainsaws to create the sculptures. The characters will live for 50 days in the pavilion before melting back into the imagination.
This flagship event is to be launched during the end-of-year festivities and will be held on the Place des Palais, from 20 December 2013 to 9 February 2014.
Four hundred and twenty tonnes of natural ice will be transformed, creating the worlds of Tintin, Quick & Flupke, the Smurfs, Gaston Lagaffe, Asterix, Boule et Bill, Blake & Mortimer, Lucky Luke and Thorgal… among so many others.
Nor should we forget to mention the numerous buildings and monuments that will make up the grandiose setting, all to the credit of Brussels. Some of the sculptures and scenes may be up to six metres high!
Come as a family or with friends to see this temporary exhibition, inspired by your favourite comic strip characters, who are turned into transparent and luminous ice for the occasion.

/AzerTAc/