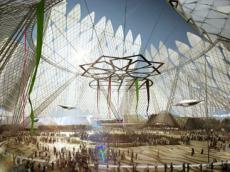 Think of the Arab souk -- the fabled marketplaces of the Middle East -- and it immediately conjures up images straight from the Arabian Nights: mountains of yellow turmeric, shafts of light through lattices and the air thick with incense smoke.
These powerful associations have not been lost on the team from the United Arab Emirates that last month won the bid to host the World Expo 2020; exhibitors making the journey to Dubai in seven years will be setting up their pavilions in the biggest souk in history.
The 438-hectare site at the Dubai Trade Center, Jebel Ali, will be one of the largest ever developed for a World Expo.
Created in an empty desert area between Dubai and Abu Dhabi, the vast zones of the structure -- each one representing the bid themes of sustainability, mobility and opportunity - are inspired by the labyrinthine galleries of the souk.
At the core of the site will be an open plaza called Al Wasl --Arabic for "the connection" -- to fit with the Expo theme of "Connecting Minds, Creating the Future."
Certainly in terms of Expo history, Dubai has a tough act to follow.
Previous Expos have famously given the world the Eiffel Tower and unveiled products as important as the telephone and as ubiquitous as Heinz Tomato Ketchup
For Greg Lindsay, co-author of "Aerotropolis: The Way We'll Live Next", the Expo proximity to the new Al-Maktoum International Airport and Dubai World Central development is especially significant.
"(Dubai World Central) is the best organic example of an 'aerotropolis,'" says Lindsay, whose book puts the case that modern globalized cities such as Dubai are built around, and feed off, airports in much the same way as cities in the 19th century were built around the railways.
"In 1990, there was nothing really there ... it was the strategy of Emirates and the civil aviation authority to make Dubai the crossroads of the world.
"I do think winning the Expo will be a huge catalyst for its development," he said.

/CNN/