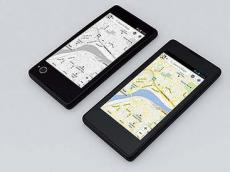 Russia's first smartphone - a quirky, dual-screen device with a traditional LCD-color display on one side and an electronic-paper display similar to the Amazon Kindle on the other - began selling in Russia and several other European countries on Wednesday.
The Yotaphone, developed by a Russian tech start-up, Yota Devices, will be sold for about 19,990 roubles ($668) in Russia, slightly cheaper than top competitors like the Apple iPhone 5 and the Samsung Galaxy S4.
The Russian phone, which uses an Android operating system, is an attempt by a European company to jump into the handset market, largely dominated by US and Asian manufacturers. Nokia, the largest mobile phone maker in Europe, is in the final stages of selling that business to Microsoft for $US7.2 billion. Jolla, a smaller Finnish start-up founded by former Nokia engineers, has only recently started selling its own handset aimed at a global audience.
At a kickoff event at the Garage Centre for Contemporary Culture in downtown Moscow, the chief executive of Yota Devices, Vladislav Martynov, said the introduction of dual screens was "a revolution in telephone architecture" and would conserve battery life.

/Smh.Com.Au/