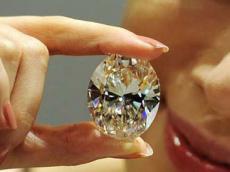 A "perfect" white diamond which is expected to fetch a record price of up to $35 million (Dh128 million) when it is auctioned in Hong Kong next month made its first appearance in the city on Thursday.
The egg-shaped 118.28-carat "Magnificent Oval Diamond" — the largest of its kind — stunned onlookers at a preview and could set a new record for the amount fetched by a white diamond at auction.
Although the official estimate is set between $28 and $35 million, Sotheby`s says it could command more when it goes under the hammer at the auction house in Hong Kong on October 7.
The current record is $26.74 million.
"It`s a perfect diamond. There`s not a better diamond ever offered anywhere in the world," Sotheby`s Asia Deputy Head of Jewellery Department Terry Chu told AFP.
The stone, described by Sotheby`s as "the largest D colour flawless diamond" has the highest quality rating awarded by the Gemological Institute of America, she said.
"D colour" diamonds are rare and colourless, fetching premium prices.
The sparkling, translucent stone was unveiled to a packed press conference at Sotheby`s office in central Hong Kong.
The auction is expected to attract an international group of collectors, with the diamond already showcased in London, New York and Geneva. It will also be exhibited in Doha before the sale.
"At this level, it`s going to be a very international group of collectors or clientele that will be looking to acquire this amazing stone," Sotheby`s Chairman of International Jewellery for Asia, Quek Chin Yeow, said.
A "Premier Blue Diamond" at 7.59-carat which is expected to fetch up to $19 million, and two jadeite bead necklaces from the Chinese republican period, worth up to $3.8 million are also for sale.
/AzerTAg/