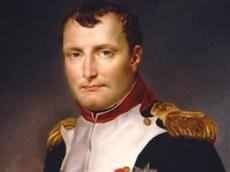 A painting of Napoleon Bonaparte by Jacques-Louis David has been identified in New York by a University of Reading researcher.
Previously believed to be a copy, it was acquired in 2005 for an estimated £15,000 by a private collector, who had the painting cleaned.
The new owner was urged to contact French art expert Dr Simon Lee to help authenticate the portrait.
The most recent David portrait to be sold fetched £2.14m in 2006.
The painting, which had been believed lost, shows Napoleon in 1813 when the British and Prussians were threatening to invade France.
It was first recorded in the collection of the Borthwick-Norton family at Borthwick Castle in southern Scotland.
It then passed by descent to Eva Sardinia Borthwick-Norton, who gifted it to the Royal Scottish Academy.
Dr Lee, a senior history of art lecturer at the University of Reading, said: "How it came to be in Scotland is not known but France and Scotland had an ancient alliance against the common enemy - England. So it's presence in Scotland might be more evidence of an admiration for the Emperor.
"By having his portrait painted in National Guard uniform, Napoleon was promoting himself as protector and defender of the nation at the time when France was under great threat."
According to Dr Lee, the painting was aimed at fostering patriotism but never reached a wider audience because the allied invasion meant it remained uncirculated.



/BBC/