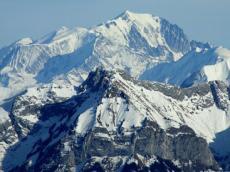 A French mountain climber scaling a Mont Blanc glacier was left astonished when he discovered a chest in the ice containing tens of thousands of euros worth of precious gems. The buried jewels are believed to be linked to two mysterious Indian plane crashes.
A French climber was left stunned when he stumbled across a metal box on a Mont Blanc glacier that was filled with emeralds, rubies and sapphires worth hundreds of thousands of euros, it was reported on Thursday.
The mountaineer, who wants to remain anonymous, discovered the box of treasures when climbing the famous Bossons Glacier, near Chamonix.
According to reports in local newspaper Le Dauphiné Liberé the climber saw the box lying in the ice and when he opened it found several little bags marked with the words "Made in India".
To his astonishment inside the bags were gems, saphires, rubies and emeralds that had an estimated value of up to €246,000 ($332,000).
The climber since handed the treasure over to police.
French authorities have paid tribute to the young man.
The buried booty is believed to be linked to two mysterious plane crashes involving in an Indian airliners in the middle of the last century.
On November 3, 1950 the Malabar Princess, an Air India plane, crashed on Mont Blanc killing 58 people on board. And 16 years later, on 24 January 1966, a Boeing 707 Air India plane en route from Mumbai to New York, came down at the same location. All 117 passengers on board were killed.
French authorities say they will contact their Indian counterparts to try to trace the owner of the treasure. Under French law, the jewellery could be handed over to the mountaineer if these are not identified.
/AzerTAg/