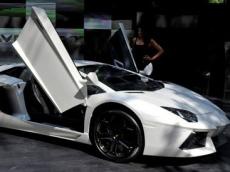 A gold-plated Lamborghini encrusted with gemstones is being offered for a starting auction price of $7.5 million.
The custom made model Lamborghini Aventador LP-700, the frame of which will be carved out of a 500-kilogram block of solid gold, will contain just over 55 pounds of the precious metal which when combined with the decorative gems, has a value of $2.64 million.
A prototype of the car is presently on display in a Dubai showroom, thereby allowing the future buyer to customize it with their own preferences. The car itself has yet to be produced, though it has already been contracted out to Germany`s RGE Robert Gulpen Engineering.
Though it will not be intended for road use, the car is said to contain a V12 engine producing 700 bhp that will allow the driver to excel from 0-62 mph in 2.9 seconds.
The company says the model car "is indeed a very sound investment in precious metals and gemstones," with "enormous potential for this value to increase significantly".
In addition to the engine, precious metal frame and gemstones, the car`s passengers are protected by bulletproof glass.
According to the manufacturer`s website, $650,000 of the $7.5 million auction asking price will go to charity.
Despite not being made for the road, the Guinness Book of World Records has listed the car
under three categories: the most expensive model car, the most secure showcase and the most luxurious logo.
Having been on display for only one week in Dubai, a Lamborghini spokesperson told that there have yet to be any expressions of interest from potential buyers.
This isn`t the first golden Lamborghini to be unveiled in recent years.
Last June, Lamborghini Miami showcased an Aventador wrapped in gold foil, as opposed to being gold-plated.
/AzerTAg/