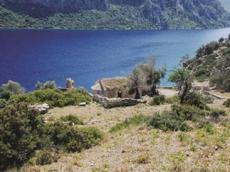 The Aegean town of Marmaris' Kameriye Island is expected to become a 'marriage center' for tourists when a project prepared for the restoration of a 1,800-year-old Orthodox Church is completed
Project works are about to come to an end in a 1,800-year-old Orthodox church, located on Kameriye Island in the Aegean town of Marmaris and considered as the second home of the Virgin Mary in Turkey, which is set to open to tourism.
The Marmaris Trade Center (MTO) initiated a project in 2010 to restore the church and open it for faith and marriage tourism. The project titled "Five Pieces of Gold," was approved by the Provincial Special Administration last February. The restitution and restoration projects of the church were also approved by the Mu?la Cultural and Heritage Preservation Board.
MTO Chairman Mehmet Baysal said that the restoration works of the project were set to start soon. He said that a team including experts of the Provincial Culture and Tourism Directorate and Mugla Council of Monuments made observations about the history, architectural structure of Kameriye Island and gathered information about similar churches to create a database for the restoration project.
/HurriyetDailynews.Com/